Mended Hearts Chapter 216 would like to thank the following for their generous support.
Visit our supporters websites by clicking on their images.
The Hussmann Corporation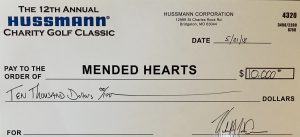 Hussmann has been a long-time supporter of Mended Hearts Chapter 216. On May 21, 2018 at the Hussmann Charity Golf Classic held at Strawberry Farms Golf Club in Irvine, CA, The Hussmann Corporation presented Mended Hearts Chapter 216 a $10,000 donation.
Ongoing support from our sponsors allows Chapter 216 to fund outreach programs in our communities such as the recent donation of Automatic External Defrbrillators (AED's) to local schools.